Dunedin Child Custody Attorneys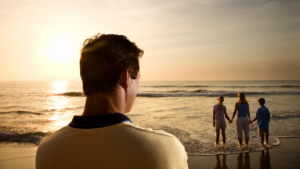 Unhappy couples that have children are much more likely to stay in a bad relationship than childless couples. Concern for what will happen to the children, if they will have access to them post-divorce, and how they will mentally handle the divorce process can keep parents hanging onto a relationship far past its expiration date.
With the help of an experienced Child Custody Attorney from The Law Office of Kerya L. Koeut, P.A. in Dunedin, you can discover a future where both yours and your children's happiness can be accomplished.
Call The Law Office of Kerya L. Koeut, P.A. today at (727) 888-5199 for your Free Consultation!
Dispelling the Happy Home Myth
Many couples find themselves staying in a bad relationship thinking they are doing it for their children, not realizing that it is actually doing more harm than good. An atmosphere filled with unhappiness, stress, anger, and constant bickering is far more damaging to children than dealing with a broken home. When they are building a happy and healthy relationship themselves, it is your example that they will remember. This factor is commonly overlooked by parents when weighing if divorce is the right decision for them and their family.
It is surprising to learn that a number of people are able to communicate with their children on a better level after finally freeing themselves from "putting on a show". Many do not know that children feel relieved after divorce, as it actually reduces the stress they experience at home. Children often interpret their parents' unhappiness as anger directed to them, or feel helpless with their inability to fix your sadness. Through open communication, constant reassurance of still having a relationship with both their parents, and giving an honest explanation of what is taking place and why, you will be able to establish a healthier relationship with your children, despite the divorce.
Determining Child Custody
Child custody is determined by what is in the best interest of the child. The exact process can vary from family to family, based on your unique situation. Parents are encouraged to work together to develop a plan for time-sharing, and parents who are able to get past their differences for their child's interests are often given more favorable results from the court.
However, there may be times that you must work with a Guardian Ad Litem or GAL, in order to decide if a joint or sole custody is paramount, and what the ideal custody agreement will look like. This review can also include mental health inspectors to determine the ability for care by the individual parents. During the custody trial, it will then be decided by the court what custody arrangement is best for the child. At The Law Office of Kerya L. Koeut, P.A. in Dunedin, FL, we thoroughly review your personal situation and unique case, discuss what you can expect to happen throughout the process, and develop a road map to help us obtain the best possible time-sharing agreement for you and your children.
Free Consultation with an Experienced Child Custody Lawyer
Are you ready to hire a competent child custody or family law attorney to assist with your Dunedin legal matters? The Law Office of Kerya L. Koeut, P.A. is ready to help you with all aspects of child custody, including obtaining sole or joint custody, parenting responsibility, or in contesting custody decisions.
Call The Law Office of Kerya L. Koeut, P.A. now at (727) 888-5199 for a Free Consultation to discuss your needs and how we can help.